2. Guide for using OUC Internet Service
(1)Choose the Internet package
①Login the Ocean University of China (OUC) website - http://wljf.ouc.edu.cn through the OUC Internet Service Landline or WIFI connections like OUC-WIFI/OUC-AUTO. For logining, you have to input your Student Card number as account number and input your network password(your initial password number is last six digits of your passport number).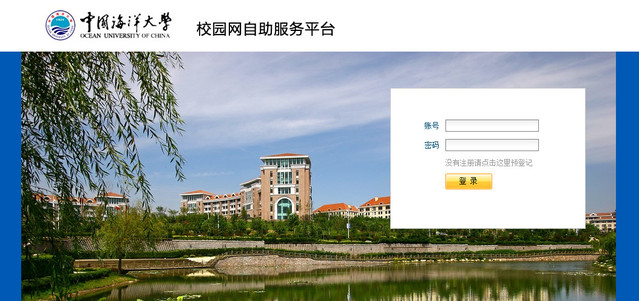 ②Input your personal phone number, select the corresponding package and click account activation.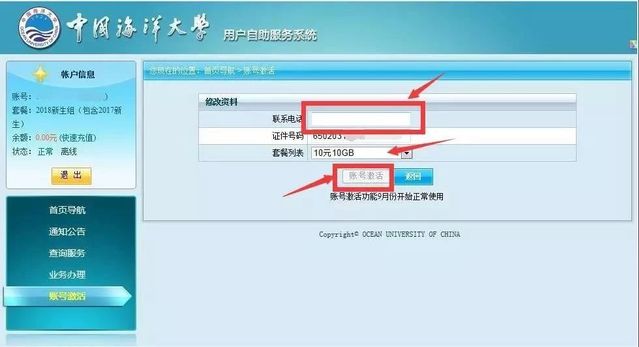 Currently, there are three kinds of Internet packages:
a) 10 yuan for 10GB per month.
b) 20 yuan for 30GB per month.
If the internet data has been run out, the excess data will be charged at 0.002 yuan/MB. Users can change the package selection once a month. If you want to change you internet package, you need to operate at website and from next month, your package will be changed.
c) 30 yuan for unlimited data per month.
Every account can be used by three devices simultaneously and logined in from both landline and WIFI connections.
Please select the corresponding package according to your actual needs.
(2)Recharge your online account
You can pay Internet fee by the transfer machine. At present, there are five smart card transfer machines in User Servince Center for Network and Information, the Second Canteen of Laoshan Campus and the canteen of Yushan Campus.
The payment process is as given below:
Insert the campus smart card into the card reader port, select Pay Internet Fee or 缴纳网费 and finish the payment process step by step according to the system prompts and then you can use the smart card account balance to recharge the online account.